MENA Cyber Security Summit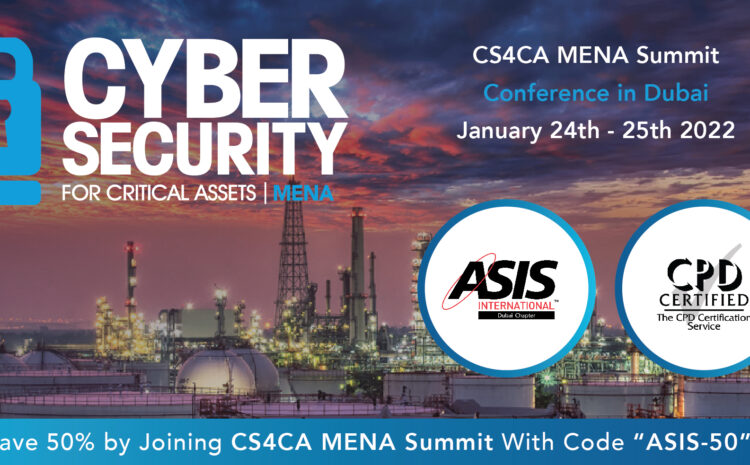 ASIS Dubai Chapter is delighted to invite you to attend the Cyber Security for Critical Assets MENA Summit in Dubai, on 24th – 25th January 2022.
The CS4CA MENA Summit brings together 100+ cyber security leaders from across the Oil & Gas, Chemical, Healthcare, Maritime, Chemical, Pharma, Mining & Utility industries, for 2-days of insight building and expert knowledge exchange.
Members of ASIS Dubai Chapter are invited to join experts from Saudi Aramco, SNC-Lavalin, ADGAS, Oman National CERT, Total and Emirates to hone your skills and develop a cyber security strategy to protect your organisation's critical assets and infrastructure.
Agenda sessions includes:
– Using Cloud Security & AI to Protect Critical Assets
– Protecting Supply Chains
– The Role of the CISO & How to Pursue Holistic Cyber Security Strategies
– Digital Strategies – Reviewing MENA's Cyber Regulations & National Security Strategies
– IT/OT Convergence
– And more!
Find out more as well as viewing the detailed agenda and saving 50% on your pass with the complimentary discount code "ASIS-50" online here.
We look forward to seeing you there.
Kind regards,
ASIS Dubai Chapter